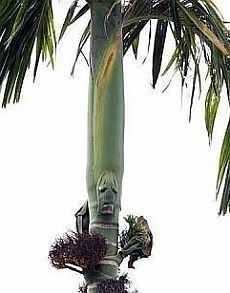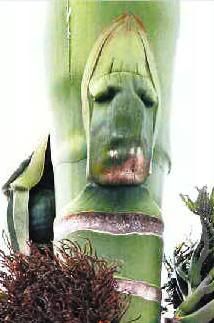 An unexplained phenomenon occured on a tree in Penang, Malaysia, resulting it to be named as the "ghost tree". The curves on the five-metre high betel nut tree clearly resemble human eyes, teeth and a nose. The 10 years old pinang(betel nut) tree, which has a human-liked face on its trunk draws a large crowd around the tree due to their curiosity. According to NST, some of the villagers claimed that the human-like face changed every day. They claimed that the image photographed several days ago was different from the one photographed yesterday.
Two days after the news of this weird tree, some of the irresponsible visitors who believe the tree has magical healing powers had chop off the parts of its root.
Villager Abdullah Baharom, 53, said people had been cutting the roots since yesterday morning.

"They believe the roots contain healing powers or have medicinal value.

"Whatever it is, they should not have cut the roots.

"The tree will surely die if people continue hacking at the roots," he said.

Abdullah said whoever cut the tree's roots might have done it just before dawn as there was still a large crowd in the area until 3am.

He said it was fortunate only a small amount of roots had been cut from the tree.

[Source]

[tags]Ghost Tree, betel nut tree, Pinang tree, Penang, Malaysia, weird[/tags]